Ours was the average American family and I thought we were living the dream. Life was challenging at times, but overall good. Our two beautiful daughters excelled in school, played sports and instruments, and were active in theater. We loved camping, hiking, traveling, and the outdoors. Our family seemed to flourish, and we seemed to be what most would call "normal."
In 2012, cell phones and social media changed our lives forever. High school bullying, cyber-bullying, depression, and anxiety took their toll on our children. We were introduced to navigating through the mental health system to try to find help for them; however, we found this to be extremely complicated and very frustrating.
In February of 2012, our oldest daughter attempted suicide – the first of five attempts.
On December 12, 2016, our world was shattered completely when our youngest daughter took her own life at the age of 16.
After that day, my life seemed to have no purpose and I lost hope. Feelings of depression and grief, pondering the possible reasons why, and blaming myself, became daily obstacles. Seeing other families sharing special moments with their children brought sadness and even jealousy of what I was missing. In addition, the public shame around the whole stigma of suicide created so much pressure that I felt like quitting my job, moving away from my community, and even leaving life.
Since her death, I hear the same phrases like, "It'll be better soon…isn't it time to move on?" My least favorite of all is, "She is in a better place." If she is in a better place, why am I still here?
The loss of a child is by far the worst loss imaginable; yet there is no name or label for it. For example, if one loses a spouse, you're a widow/widower; if a child loses their parent, they're an orphan. What am I?
Suicide scares people and they may choose to ignore you or avoid the topic altogether so as not to make you feel bad; however, it is my belief that they do this to possibly avoid dealing with their own fears. Please don't be afraid to say my child's name: "Annika." It may bring tears, but it also brings me happiness in knowing that she is remembered. Life goes on and I am learning to live with the pain of her loss. The hole in my heart will never be mended. I have learned that I will always be healing, but never healed.
Earlier I wrote that I lost hope. I heard a person can live forty days without food, four days without water, and four minutes without air, but only four seconds without hope. People who complete suicide reach that moment of hopelessness and despair and it is in those few seconds, when they make that fatal decision.
Suicide is the tenth leading cause of death in the United States; the second leading cause of death in young people ages 9 – 24; and the leading cause of death in the construction industry. That last statistic completely astounded me! I have worked in the construction industry for over thirty-seven years; however, I just heard this statistic for the first time in December of 2021.
Ray, Madeline (Ray's oldest daughter), Kimberly (Ray's wife), and Annika posing for family portrait in 2015.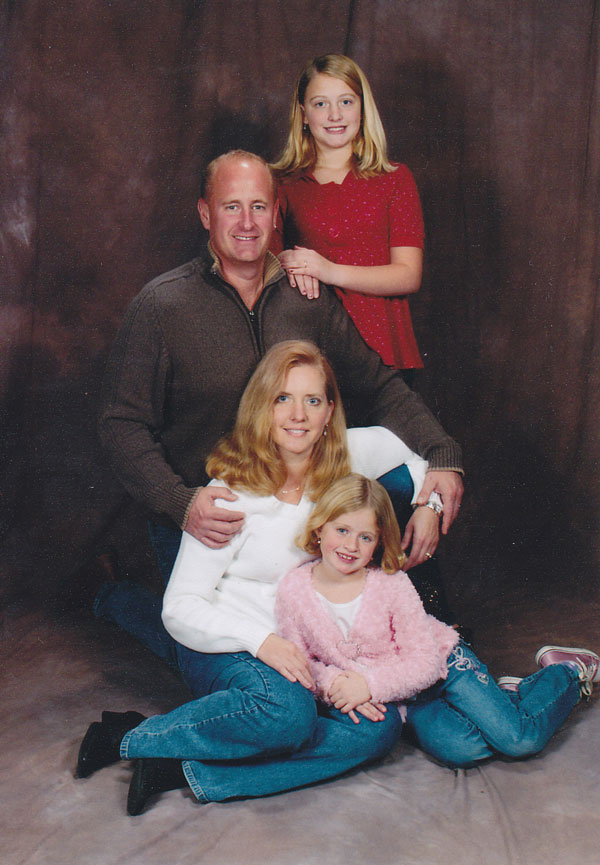 Top to Bottom: Madeline, Ray, Kimberly, and Annika posing in 2007 for a family photo
This leads to another frustration: There is a lot of research on mental health. Many organizations are doing something for this cause, with each seeming to build their own wheel towards success for others to use on their journeys. Why hasn't anyone figured out a way to use the wheels that have already been built and put them together to form an 18-wheeler for mental health awareness? Everyone wants to create that magic button that will cure this epidemic. However, as we all know, there is no single magic button.
The loss of a loved one has a ripple effect that touches so very many others. A mental health crisis not only affects each of us directly, but also affects our immediate family members, loved ones, coworkers, classmates, friends, and neighbors. It is believed that 1 in 4 of us will be affected by mental illness in our lifetime or know some one who has been affected.
Our family's journey is ours, but it is not so dissimilar to others who have lost a loved one to this disease. The impact of mental illness can affect many parts of our lives. We need to break the stigma and raise awareness in all areas of our community about this disease. We need to learn to be compassionate and to listen without judging those who are dealing with this disease. Each of us needs to understand that although we may not be able to solve other people's problems, we should be able to listen and help guide them to professionals who can.
TRANSCENDENCE - Merriam-Webster defines the word transcend as: "To rise above or go beyond the limits of," "to triumph over the negative," and "to OVERCOME."
In my five-year journey, I believe I am transcending through my grief with a purpose through sharing my story and actively volunteering with the American Foundation of Suicide Prevention, the Minnesota Construction Task Force, and Wings of Hope.
Obviously, I have not really lost hope. The meaning of hope to me is believing that my future can be better than the past. I have found a purpose in life: To break the stigma around mental illness, as well as to help other families on their path to recovery and to keep them from traveling my path.
Special thank you to Cal Beyer for peer editing this story.
About the Author
Ray Stenglein
Raymond Stenglein is Project Manager/Estimator at Environmental Associates Inc. since 1994; www.eaimn.com.